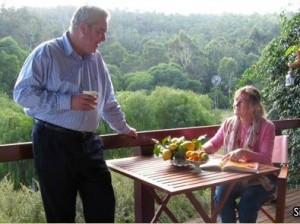 Simon met Kim in a café in Perth. They married a year or two later, went to live in Europe for a few years, returned to Perth and bought a small village post office in the Perth Hills.
After nine years in the Post Office they then set off for a sabbatical in France returning after a year or so to find that the grass is greenest in the Ferguson Valley and that the wine isn't bad either!
Kim is a fourth generation West Australian (a true Sandgroper) and Simon, originally from the south coast of England, arrived in Perth in 1987 and became an Australian citizen in 1990.
Together they found this idyllic property and made it their home to share with others.