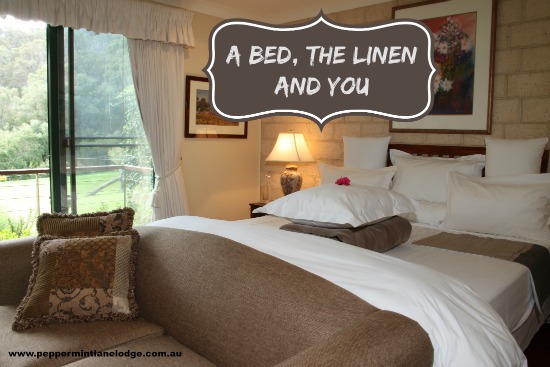 Sleeping is something we do a lot of in our lives. Supposedly we should sleep 8 hours every night so multiply that by 365 days in a year – wow – that's an awesome amount of hours.
The comfort of your bed has a lot to do with how well you sleep – so too does having lovely, clean, fresh sheets and pillows.
There's nothing more decadent than lying in your bed in comfort, with someone, or just with a good book or magazine or – your iPad.
When you have time for 'you' it's lovely to lie there looking out at a nice view and enjoying your time in bed. The experience of a good bed, plush linen and being surrounded by pillows and a doona is a pleasure that we all should enjoy.
A bed, the linen, and you
So often our guests at Peppermint Lane Lodge say that their sleep was absolutely amazing and ask what sort of bed were they sleeping on – and they always mention the beautiful fresh linen. Many guests say that they never sleep in because they are habitual early risers and they ask if they could have their breakfast quite early, please. No problem we say but are never surprised when they come rushing up to the Lodge because they've slept in…..full of apologies as it's never happened before. We smile and are so pleased that they have slept well. Music to the ears of people in the accommodation business.
We use a WA based company for the beds and have the premium commercial hotel variety. We only have king beds too. The linen is provided to us by another company in Malaga – again – commercial 50/50 blend sheets. At Peppermint Lane Lodge the pillows are piled high on the bed. We like to give our guests a selection of hard, medium and oh so soft pillows. The mattress topper and doonas are of the highest quality too.
Interested in experiencing our plush beds and private guest suites but don't know when to visit? You might also like to read: Seasons of the Ferguson Valley
Tips for choosing and maintaining Beds and Bedding
We suggest an ensemble bed – base and mattress. We use the Premium/Pentium range. We do not recommend a mattress topper that is incorporated onto the mattress. We like to turn the mattress – not only around but over too. The topper doesn't allow a "flip".
Personally we don't like latex mattresses. They are heavy and don't seem to breath well but mostly are hard to lift up when tucking sheets in and under.
The base of the bed we prefer to be covered so we don't have to worry about a valence. Legs with wheels that lock for easy moving around. The locking wheels are perfect. If you are worried about movement then perhaps place a settee at the end of the bed, or a chaise lounge, or a large chest or some other piece of furniture that is heavy enough to stop the bed from moving around too much.
If your preference is a base of your choice then it'll be easier if it is one that the mattress doesn't drop into. These type of beds mean that you have to feel down into the base to pick up the mattress and then have an added lift for the poor back. Best avoided if possible.
Sheets – use 50/50 blend. We find that this sheeting does not 'ball" and remains crisp and fresh. It's easy to wash too – mostly not requiring ironing. If you prefer to iron them then these are much easier than pure cotton or linen.  Thread count is useful – higher the amount – supposedly the better but best to research this yourself.
It's good to vacuum your bed sometime too – within 6 months – ours are done every month – but that's up to you. Also whilst you are disrupting your room – vacuum at the top of the bed and under the bed too…….amazing how much dust accumulates.
We are contemporary in style so all our linen is white. We add colour to our room with cushion and bed runners and fresh flowers…..simple and easy.
If you are a reader in bed then good lighting is tantamount. A good sturdy light that is tall so the light comes down on the book is recommended. If your bedside table is at the top of the mattress then a lamp approximately 60cm tall is recommended. A solid style lamp is better so that it doesn't fall over easily.
If your bed is over 8 years old then it's probably (is) time for a new one. Treat yourself 🙂
Bed Shop
If you live in Australia and would like us to organize a new bed and linen, pillows and doona for you please email us. Easily done and and at good pricing too. You can contact us on info@peppermintlanelodge.com.au
Do you have a favourite style of bed and linen? Would love to hear.